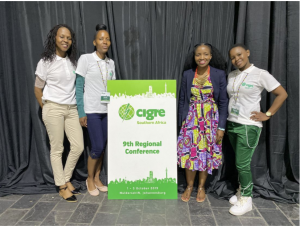 CIGRE Women in Energy (WiE) Forum
The need for a women engineer forum came from the low number of women participants at CIGRE, which is currently at 8%. The forum was then formed to address major challenges hindering women growth at CIGRE.
CIGRE Women in Energy (WiE) forum defined the following as its vision, mission and expectations;
VISION
CIGRE WIE creates a forum for women engineers to interact, develop their careers, increase their self-confidence, improve their professional skills, and accomplish their dreams
MISSION
CIGRE WIE inspires, motivates women engineers by helping to provide links to global thought leaders and role models, as well as to demonstrate the influence and functions of female professional communities
EXPECTATION
To identify winning strategies that drive career success for women in the power & energy industry
To understand the knowledge, skills and experience you need to reach your goals
To design action plans to grow women's professional career
Since CIGRE work is fulfilled through national committees, it is then encouraged that each national committee establishes a women in engineering forum to fulfil the above mandate. The national committee WiE forums are encouraged to organise sessions on mentorship, coaching, role modelling, while being conscious about inclusion of women engineers at all levels.
To date, the following national committees have been recorded to have a WiE forum, with active women empowerment sessions.
| | |
| --- | --- |
| National Committee | Name of WiE chair |
| Australia | Tara-lee MACARTHUR |
| Brazil | Carla DAMASCENO PEIXOTO |
| Canada | Robyn KOROPATNICK |
| France | Claire LAJOIE-MAZENC |
| Iran | Nasim NEMATOLLAHI |
| Kosovo | Pranvera DOBRUNA KRYEZIU |
| New Zealand | Rebecca MARX |
| South Africa | Khayakazi DIOKA |
| Sweden | Susanne OLAUSSON |
| Oman | Alaa ALKIYUMI |
| United Kingdom | Biljana STOJKOVSKA |
| Russia | Olga FROLOVA |
| India | Seema GUPTA |
For more information on CIGRE Women in Energy visit:
https://www.cigre.org/GB/community/women-in-energy
Or contact:
CIGRE Women in Engineering Chair – Khayakazi Dioka
Women in CIGRE Australia
The Women in Energy Australia (WiEA) group was launched in 2020, to help address the lack of gender diversity in CIGRE Australia. The group is part of the larger global CIGRE Women in Engineering (WiE) forum. The name 'Women in CIGRE' was chosen to reflect the diversity of expertise within the CIGRE Australia organisation.
The Women in Energy Network Australia is a group of CIGRE and NGN members, working together to empower both current and future female members to build fulfilling careers in the energy industry and in CIGRE.
Australian power systems are undergoing unprecedented changes, so it is clear that there is no better time to promote diversity in the engineering industry in order to address the many associated technical challenges.
WiEA's vision and mission statements are defined below:
VISION
Women in Energy Australia (WIEA) is the leading platform for promoting inclusion in the power industry. We form the future of CIGRE, which accurately reflects the diversity of the society it serves and empowers the next generation to change the world.
MISSION
Women in Energy Australia supports women and other minorities by providing links to global thought leaders and role models, as well as demonstrating the influence of female and other diverse professionals.
To find out more about the WiE Australia Network, see the WiE pages here.
How to Join the Women in Energy Australia Group
You can join the Women in Energy Australia group by joining the NGN using the instructions given here. Note that the WiEA group is open to engineers of all ages and at all stages in their careers.